It was March of 1973, Bobby Stevens hit a last-second overtime jumper to give Virginia Tech an NIT championship, and I went running through my house in Norfolk as only a teenager can do, yelling and screaming about how "the Hokies did it."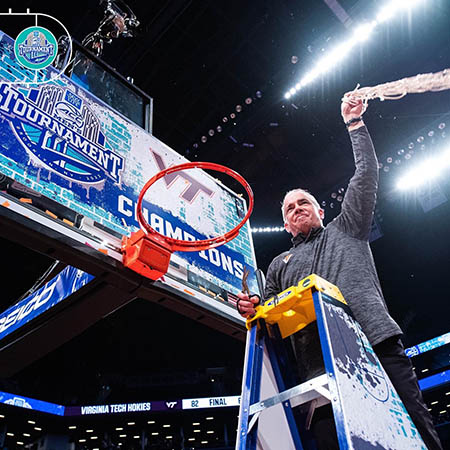 What is wrong with you, my mother asked.
Now in my 60s, I watched last night as the Hokies claimed their first Atlantic Coast Conference Tournament basketball championship with my arms held high and maybe something moist in my eye. I'm too old now to run through the house and my wife of 41 years already knows what's wrong with me.
But it felt just like that day 49 years ago.
Last night for long-suffering Hokie fans wasn't just a basketball victory. It was an exorcism, a confirmation that after decades of being the red-headed stepchild, the Hokies belong. If you grew up in Maryland, Virginia, North Carolina or South Carolina in the 60s, there were certain regional and cultural entities you enjoyed, and when it came to sports, ACC basketball was one of them.
The ACC was that group of cool kids at the table who scoffed at the notion of you even talking to them, much less sitting down at the table. And for most of my life, Virginia Tech has tried its damnedest to pull out a chair at the ACC basketball table and say "hey, what's up?" For decades, however, the Hokies were turned down for admission into the league, and really only because they had developed a good football program at exactly the same time the league needed more good football teams due to television demands did Virginia Tech gain admission in 2004.
They did well after the invite, winning ACC football titles four times in the first seven years in the league, but they were still sneered at by the basketball elite. Duke and North Carolina vocally did not want the Hokies in the league, and many adopted the same attitude as my old Roanoke Times boss, a Duke grad named Bill Brill. He called the Hokies a "one-trick pony" to suggest they would contribute in football, but wouldn't do much else to help the league.
Over the last 18 years, Virginia Tech basketball has had its ups and downs, has scored the occasional upset, and finished as high as 4th in the regular season several times. But when it came to the real pressure cooker of the season – the ACC Tournament – the Hokies never even made the finals. The storied past of the league tournament included many a tale of past teams from Virginia, Duke, North Carolina, N.C. State…just about all the mid-Atlantic teams.
But none wearing Chicago maroon and burnt orange.
My first memory of the ACC Tournament was 1970, when NC State upset No. 3 South Carolina 42-39 on a Saturday night to win. State was a good team with players like Vann Williford, Paul Coder and Ed Leftwich, but South Carolina was the league powerhouse, going 14-0 in the ACC and having players like John Roche, Tom Riker and Bobby Cremins. The upset completely derailed the Gamecock season, as back then if you didn't win your league tournament, you didn't go to the NCAAs.
From that point on, I was hooked. Later would come the days of David Thompson, Tom McMillan, Ralph Sampson, Michael Jordan and a host of other outstanding players. Later would also come a tremendous love for things like the "Sail With The Pilot" commercial jingle and announcers such as Jim Thacker and Bones McKinney, as well as a more than healthy hate for the death stars of the ACC Empire, North Carolina and Duke.
So when the Hokies joined the ACC in 2004, I knew – as much as I hated to admit it – that Brill was right about the whole one-trick pony perception until the day came Virginia Tech won an ACC basketball tournament. They also had to do more than just win, as taking advantage of upsets and beating lower-seeded teams to gain the title just wouldn't do. They needed to drive a stake into the heart of Tobacco Road and beat both North Carolina and Duke on their way.
Every year hope would spring eternal, and every year after a game or two in the tournament, I'd trudge upstairs to bed thinking "maybe next year." This season looked possible, but after an awful two-game series against Memphis and Xavier at the Barclay Center in Brooklyn, that changed.
Storm Murphy got manhandled and soon went into a shooting slump. The team looked soft. People started questioning if players like Keve Aluma and Hunter Cattoor – who along with Murphy came with Mike Young from Wofford – could play at an ACC level. Heck, people started even wondering if Young could do more than coach a team to the middle of the pack of the league.
The team would lose 10 of 15, be 2-7 in the league, and at .500 overall after a January 26 loss to Miami.
It was ugly.
As we all now know, they got better, and this week when they returned to the scene of the original crime in Brooklyn, there was hope. But that hope involved maybe winning two games and securing a backdoor invitation to the NCAA Tournament, not winning the tournament. It is the Hokie way, it has seemed, to look at the ACC tournament as a way to pad your NCAA Tournament resume, not have any real expectations of actually winning the whole thing.
For four straight nights, I watched while bracing myself for heartbreak.
For four straight nights, however, it never came.
Each night a different player stepped up, including Murphy, Cattoor and Aluma, who proved indeed that they are more than good enough to win in the ACC. Players like Sean Pedulla and Darius Maddox – who saw more and more playing time the second half of the season – stepped up too. At one point you realized you were watching a team with depth hitting on all cylinders as if this is exactly what Young had planned.
They just needed to get through December and January for those parts to all meld together while under fire.
So as the final seconds ticked off last night, I couldn't help but be a little emotional. Hokie basketball has lived a nomadic existence where they've been a second-class citizen just about forever. The Metro kicked us out. The Big East never wanted us. The ACC took us only because of football. In a country club of blue blood elites, the Hokies were the ones asked to sit over in the corner and not talk to anyone.
But not last night. As I trudged up the stairs to bed, I started humming "Sail with the pilot" while enjoying the feeling for a change of not thinking "maybe next year."
The long wait was over. The stake had been plunged into the heart of Tobacco Road.
The Hokies are one-trick ponies no longer.
We belong.